What's #AlphaBlogBites all about?
Mandi from Hex Mum Plus One hosted the #Blogtober16 event for bloggers that I and a few others took part in. Due to the massive success that she had with it, she and I have decided to co-host #AlphaBlogBites.
If you are new to the whole daily blogging thing, here's how it works.
There will be a theme for each day, which you will base your post on. It is so simple; for example, 'A is for "Activities"...' meaning that there are plenty of ways that you can interpret the brief. This will allow you to put your own spin on the theme, and choose what you would like to write your post about.
Each day throughout November there will be a new linky added to the bottom of each of Mandi's posts on her blog over at Hex Mum Plus One. All you have to do, is visit her post and attach the link to your own onto the linky.
To allow you to have a head start - and maybe get some posts written up and scheduled in ahead of time - here is the list of themes:
Link up one post each day for as many days as you would like, and add our badge to your post with the code below.
Visit both Mandi and my posts and leave a comment on each.
Please comment on the post before yours.
Use our hashtag #AlphaBlogBites so we all know where you have come from.
Tweet us at @me_becoming_mum and @hexmumplus1 using the hashtag #AlphaBlogBites and we will aim to retweet as many as we can.
You are, of course, welcome to comment on more posts that link up. Sharing the love is always nice for each of us.
If you want to keep up to date, you can also join our Facebook group #AlphaBlogBites.
I have created a little badge for you to add to the bottom of each of your posts so that people who read them know what you're up to, in case they would like to join in as well.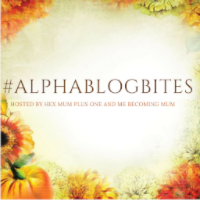 Between Mandi and I, we will comment on as many of the linked up posts as possible.
Thank you for you interest in #AlphaBlogBites; I look forward to reading all your amazing posts!