Disclaimer: I was sent a VIP pass and a meal voucher by Coral Island to try out everything they have for offer for a family day out; in return for an honest review. The following review and opinions are my own. All photos are copyright property of Me Becoming Mum.
We have travelled to many beachside spots all over the country, and tried out a range of different UK days out with the kids. One thing most seaside towns have in common is many will have an amusement arcade of some sort. None that we have visited, however, compare to the fabulous
Coral Island
in Blackpool.
Coral Island is a family-friendly place full of lights, fun and excitement which even John agreed was the best he's been to... high praise indeed! Read on to discover some of what Coral Island has to offer, and why we think it's the perfect place to spend a day as a family.
Exploring the amusement arcade
Coral Island has so many different areas to explore within the amusement arcade. From classic arcade games to fun family-friendly rides there is something for everyone.
Camel derby
Our visit to Coral Island was the first time I had ever played a Camel Derby and it was such good fun! Even the girls who are just five and two enjoyed rolling the balls towards the holes and did really well too!
Fruit machines
Fruit machines are a gambling classic and can be a lot of fun if not taken too seriously. John loves playing them and is somehow really good at it (how that's possible in a game of change I'll never know!) He and Squidgy had the most amazing time playing not for money but for prize tickets. On one play they managed to win the 500 ticket jackpot; which as you can see is a lot of tickets.
2p machines
The 2p machines have always been our girls' favourite to play in amusement arcades. To be fair they're one of our favourites too because it's a cheap way to keep them entertained. Coral Island had plenty available to play on. This meant despite it being quite busy during the Easter holidays, the girls had their pick of which one they wanted to pop their pot of 2ps into.
Prizes
I was seriously impressed by the wide variety of prizes available at Coral Island. They had everything from little bags of Haribo to a Nintendo Switch or XBox One! Depending on how many tickets you had won during your time inside Coral Island, there were plenty of choices you could make when it came to spending them on prizes. Unlike the usual plastic tat that the girls usually choose, they were able to come away with Coral Island caps, Disney princess soft toys and a few other gifts that they love.
Heading on to the Coral Island rides
As far as family days out go, Coral Island really does have so much to offer. As well as the amusement arcade, Coral Island has a variety of rides suitable for different age groups.
Circus rollercoaster
A perfect ride for younger children, the circus rollercoaster was enjoyed by both of my girls. It was fantastic and came complete with giant smiles and squeals of delight as they rode up and down, left and right, round the track of the rollercoaster. When it was time to get off they were both upset, shouting, "again, again!" at me, so it really must have been good.
Pirate flyer
The Pirate Flyer was absolutely fantastic. I'm not going to lie, it did freak me out a bit at first as the ship swayed on the rail above the arcade games. If you're scared of heights I wouldn't recommend it. However we all loved it, especially the girls who sat in the front and played with the toy guns. They even insisted that their dad take them back around (which he was OK with because he missed out when I took them up!)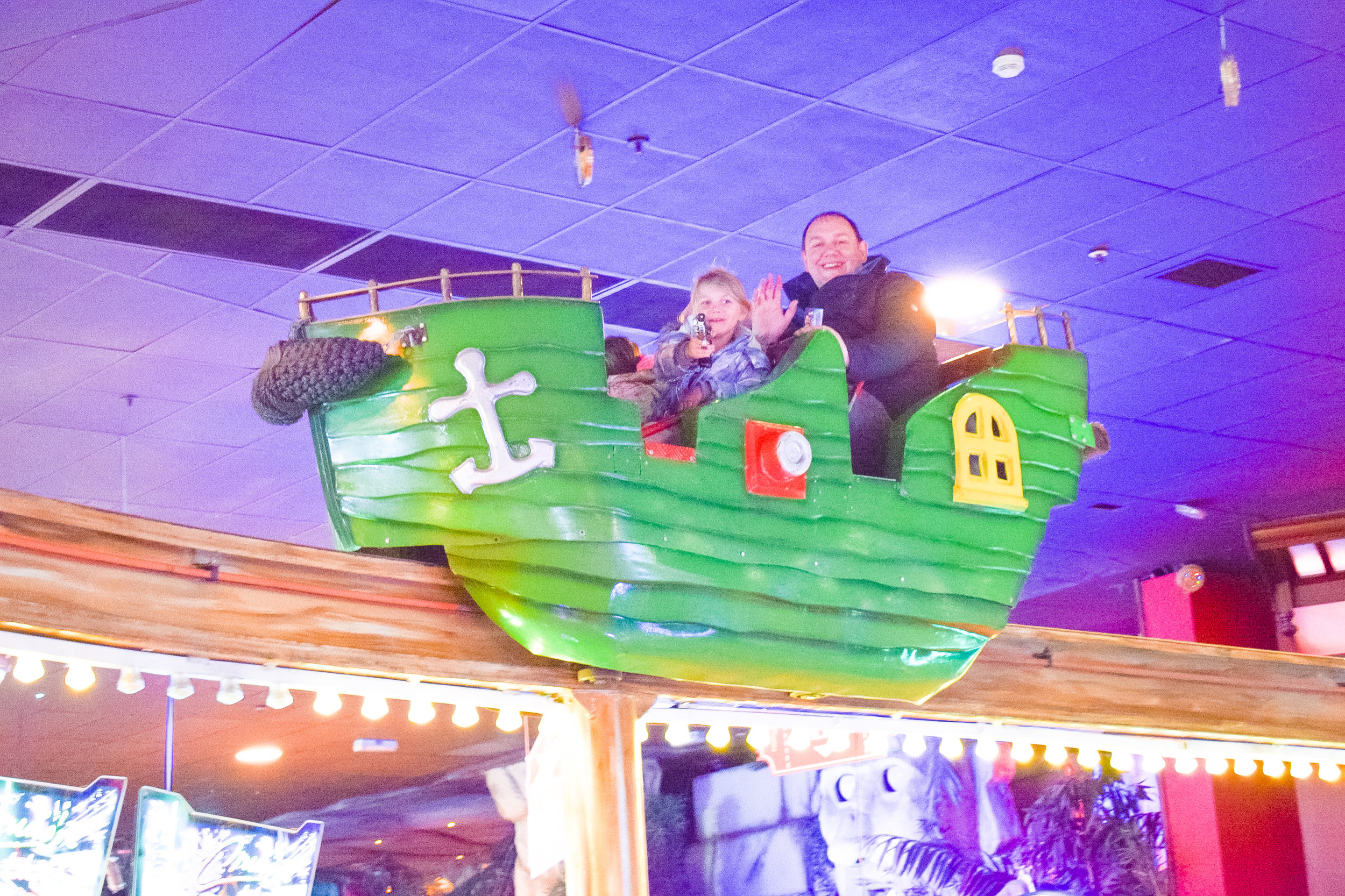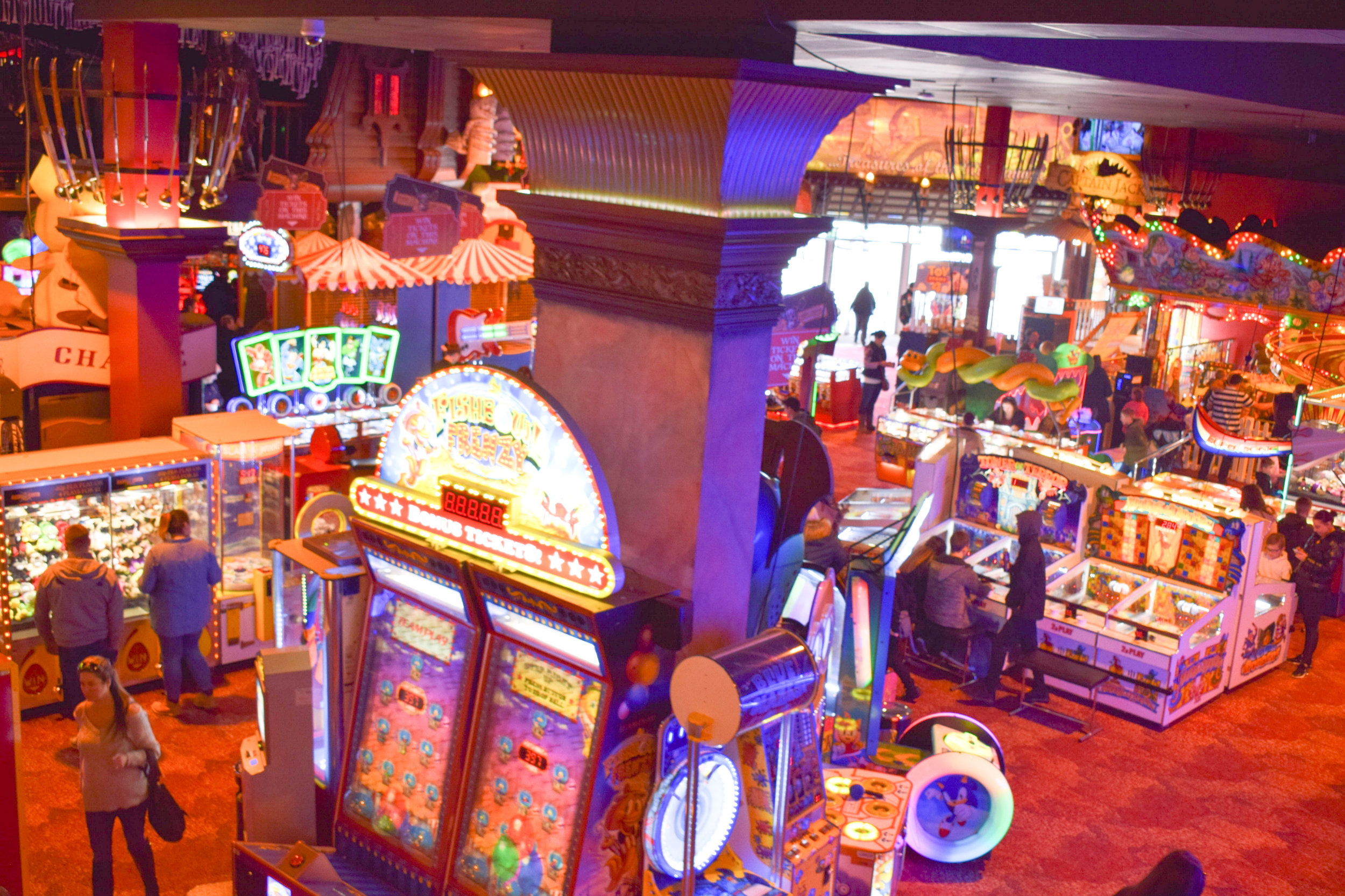 Another of the larger rides was the Ghost train which we took a rain check on as I wasn't sure it was age appropriate for my girls. I have seen friends of mine share their experience of it on social media, however, and it looks like a great ride for older children and adults.
Mini rides
As well as games, ticket machines and other fun activities to try out within Coral Island's amusement arcade, there are fun smaller rides too. The girls had a fabulous time on the pony and dolphin race rides, and John and I may have got a little carried away on the car racing ones... I was better at it (but don't tell him I told you, haha!)
Enjoying lunch at Coral Island
There are a variety of areas within Coral Island for families to enjoy snacks and meals together, including:
Peggy's Snack Bar

Captain Jack's

Fish and Chips

The Buccaneer (which is where we had our meal!)
The Buccaneer Family Bar
The Buccaneer was wonderful. The staff were kind, friendly and of course all dressed as pirates! The menu was varied, with plenty of choices for starters, mains and desserts depending on what you were after. Plus they had clear signs making you aware they could cater for people needing to avoid certain allergens.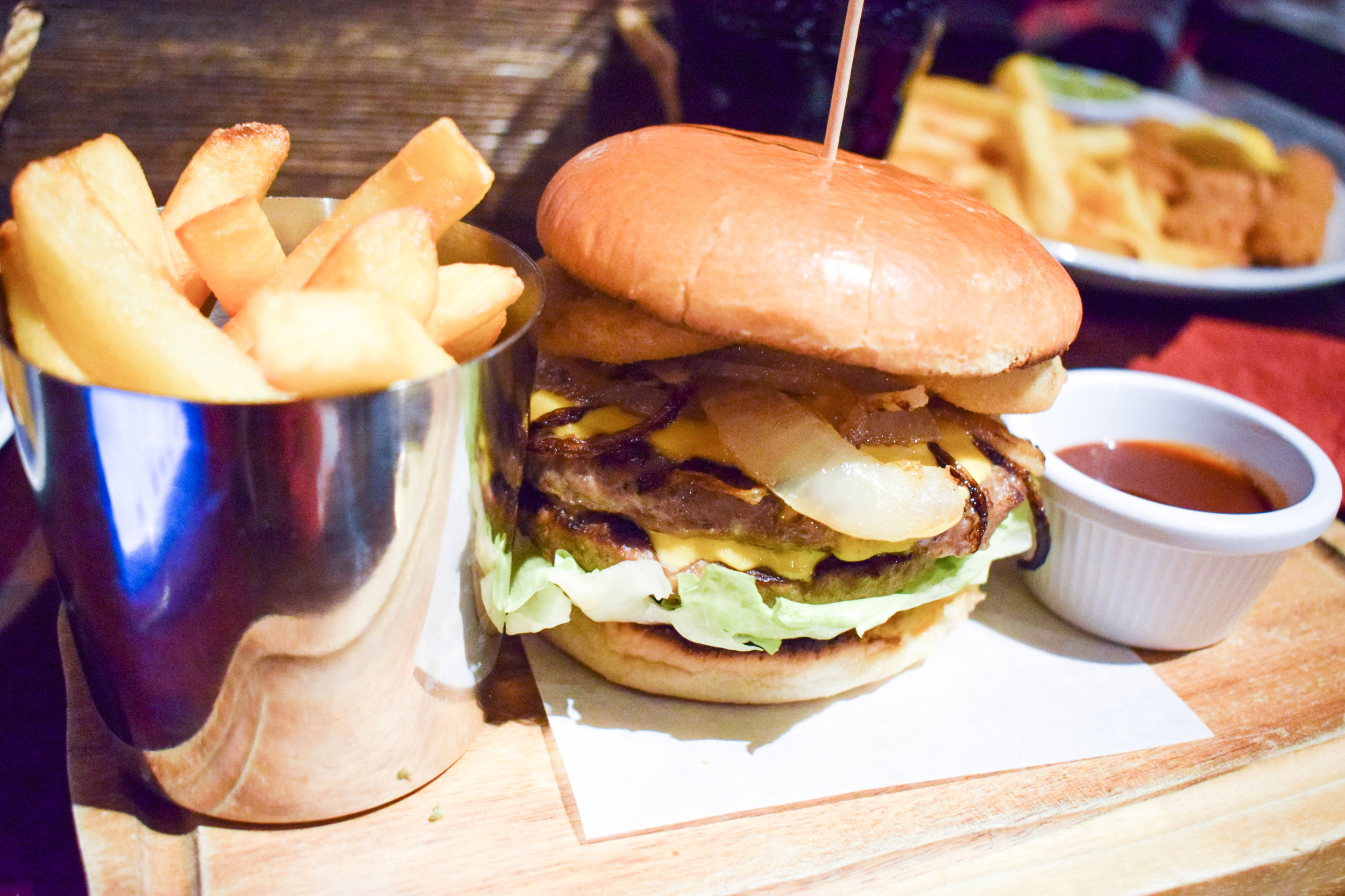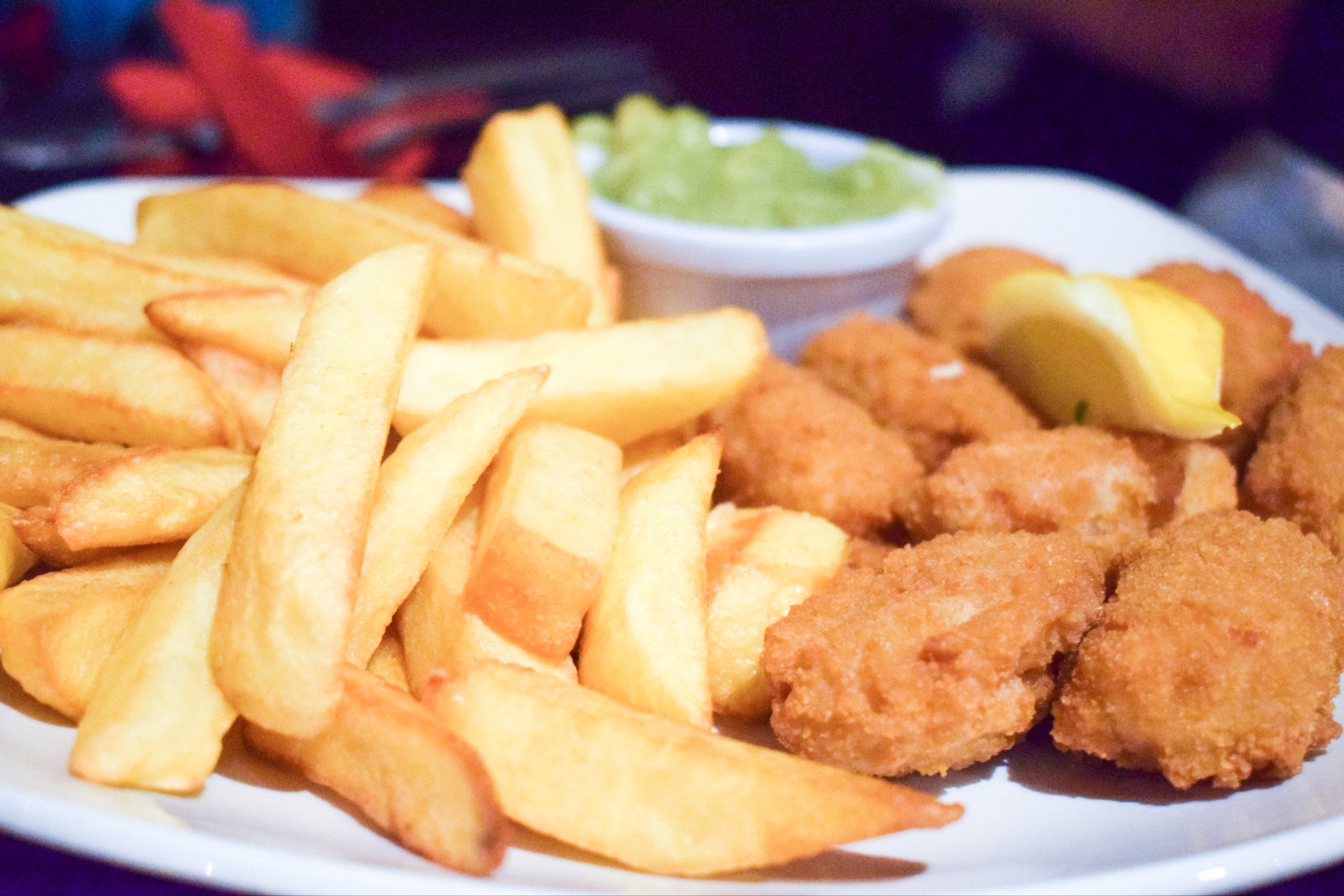 We all very much enjoyed our food at The Buccaneer Family Bar. Each of our meals from chicken wing and nacho starters to burgers and scampi mains was well cooked, and tasted delicious. The puddings too were yummy, although more of my chocolate fudge cake (my favourite dessert I might add!) was eaten by my girls than by me.
The food was also reasonably prices plus Coral Island have an awesome offer where kids eat free all day, every day at every restaurant alongside a paying adult.
Coral Island is Blackpool's largest free admission attraction. We visited during the Easter holidays so it was loud and busy, and as we spent hour after hour there you could see why! We had the most wonderful family day out at Coral Island Blackpool, and if you're looking for things to do in Blackpool, I would highly recommend Coral Island as a top family day out.
For more posts about our family adventures, from UK staycations to days out for kids visit my Travel blog. If you have any questions about our visit to Coral Island in Blackpool feel free to ask in the comments section below.