Disclaimer: I was sent the Playmobil Family Life 9420 summer villa set in return for an honest review. The review words and opinions are my own. This post also contains affiliate links which are indicated by the use of a dagger (†). All photos are copyright property of Me Becoming Mum.
Recently we were sent the fabulous
Playmobil
Family Life Summer Villa play set to review, and the girls aren't the only ones to think it's fabulous. My girls both adore Playmobil, and have and are fortunate enough to have a lovely, growing collection. Read on to check out some photos and thoughts on our new Summer Villa set.
IMPORTANT NOTICE: Please note that although Pickle can be seen enjoying this set alongside her sister, it is not recommended for children under 4 due to small parts. Pickle was fully supervised and all the small parts were boxed up and kept out of reach.
What we loved
There are lots of items included within the set.
Squidgy absolutely loves the fact that the set can both be played from inside the villa and outside too!
Playing outdoors at the summer villa
For the outside there are plenty of options to play with the family of four Playmobil characters including:
Floral fun: This includes potted trees, balcony flowers and even a tendril with pink flowers and a butterfly. Plus a watering can and bucket for gardening role play.

Relax and unwind: Each character has sandals to head out in (although the little boy has his permanently attached) and then you can play chill out time using the small table with two chairs or the sun lounger.

Family barbecue: Complete with tongs, sausages and a steak, cook up a storm on the barbecue with removable lid!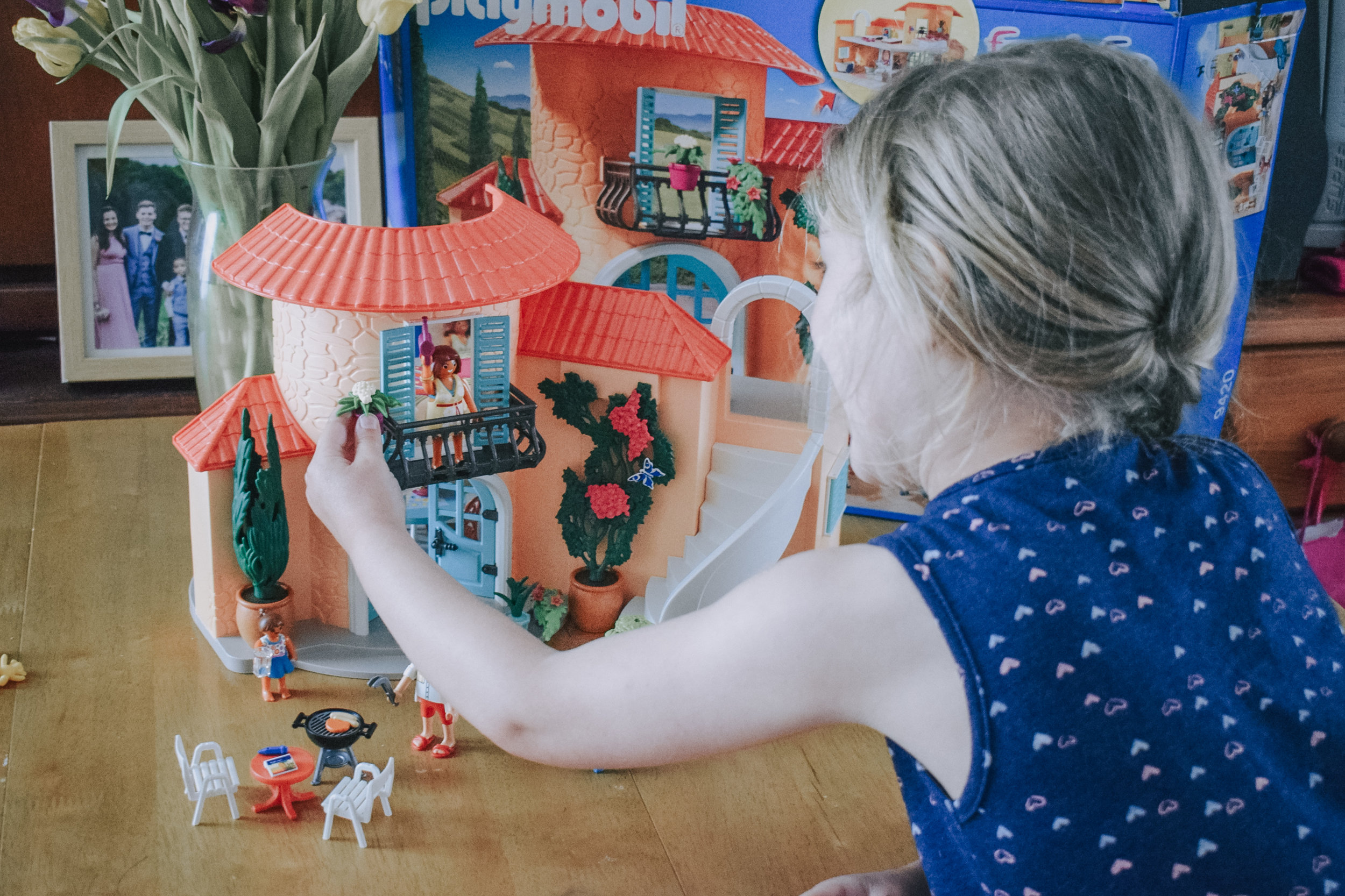 Setting up inside the summer villa
You don't just get the opportunity to play outside the Playmobil summer villa though. From bedroom furniture to food, and cutlery to a whole bathroom suite; there are so many different parts to the inside too. I think my favourite thing was the inclusion of not only a toilet with toilet roll, but also a toilet brush! You'll also find four sets of everything so that each character has a toothbrush, glass, set of cutlery and more.
N.B. Many inside play pieces of the villa are small, so make sure you keep them out of reach of younger siblings as they could pose a choking hazard.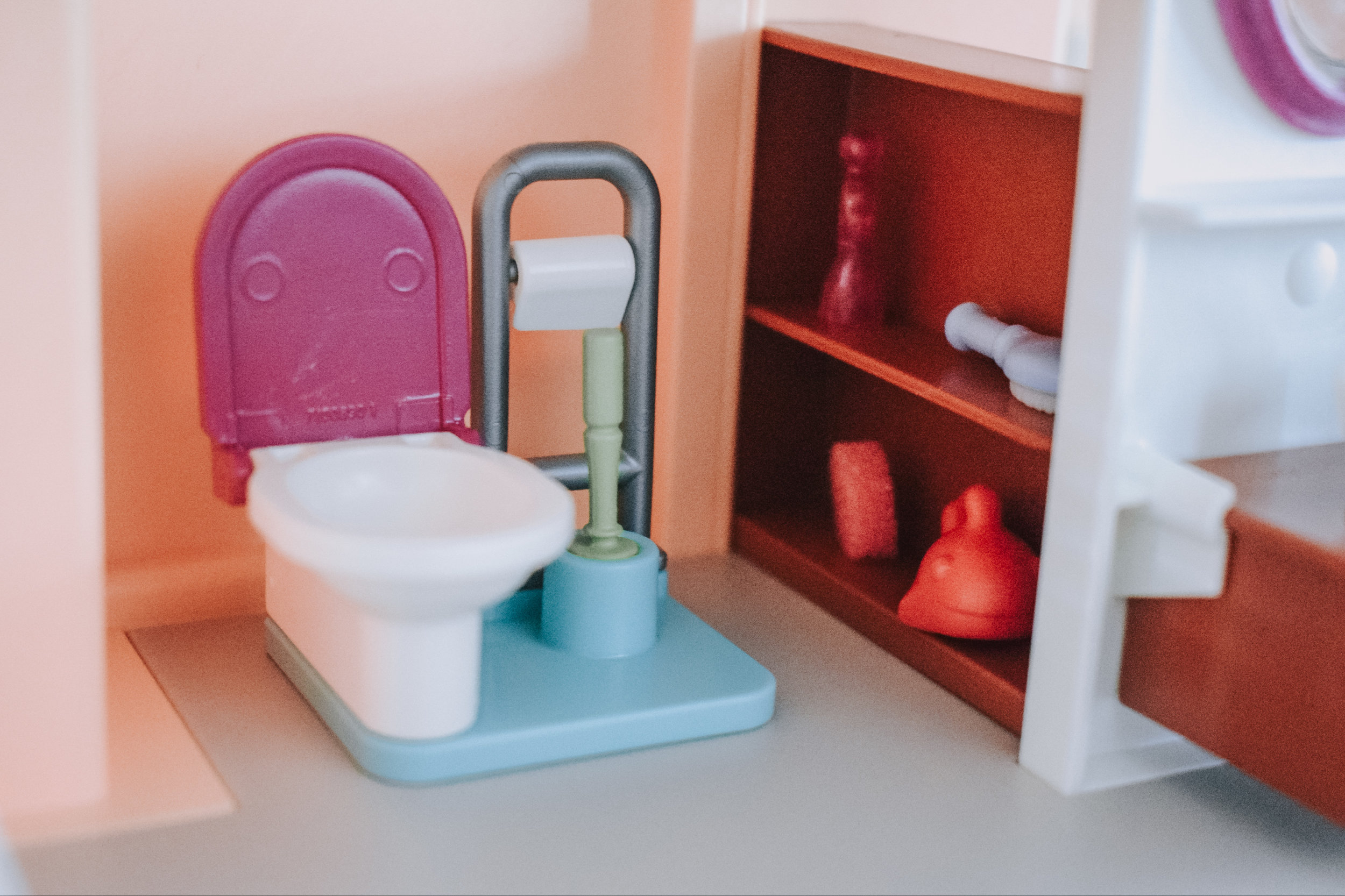 We built it together
For the first time Squidgy actually joined in the making of our Playmobil summer villa set, especially pushing the big parts together. The instructions are pretty standard for Playmobil with numbered pages and large images with arrows showing you were to put each piece. She did a lot of it herself with the occasional push from me if a pieces was a bit stiff getting into place.
This set is a great addition to your Playmobil collection
With so many different parts and different ways to play with the Playmobil summer villa, it is not only a great stand alone set with a family to play in and outside the villa, but also great to add to your own Playmobil collection. Squidgy brought down a handful of other Playmobil characters and said that they were visiting the house for a holiday. I'm pretty sure that is exactly what the set is designed for and she absolutely loves it.
There are other sets within the Playmobil family Life (and summer fun) ranges
Whatever your budget, you don't have to break the bank to be able to afford a set from the Playmobil Family Life or Summer Fun ranges. There are sets like the
Playmobil Summer Fun baby pool with slide
† for less than £20 or you can even pick up the
Playmobil Family Fun cruise ship
† for just under £50. There are so many options within both ranges that we could use alongside our Playmobil summer villa, and no doubt some of them will be on Squidgy's Christmas list later this year.
Final notes
There's so much waste
As a society we are all trying to be more environmentally friendly; and as a family, we have replaced a lot of single-use plastics and disposable products with reusable options. Sadly, Playmobil sets still come wrapped in a lot of single use plastic. Not only big pieces like the roof, which probably didn't need wrapping anyway, but there was some smaller pieces in bags within another bag. It did seem a bit excessive! Despite this, both my girls love Playmobil and this set went down so well with both of them. I hope Playmobil along with other big brands can find a different way to package their products in the future.
The stickers weren't easy to put on
Squidgy had such an amazing time helping me put all the part of the Playmobil summer villa set together, but when it came to those final sticker placements both of us had trouble! The bottles weren't flat surfaces making it difficult to get the stickers to actually stay stuck to the surface, so Squidgy asked for my help. The parts were so small, however, I had trouble being able to hold the part and put the sticker on at the same time. I did manage it in the end, and Squidgy quickly stacked all the juice cartons and food tins on the shelf inside the villa.
Be careful with the small parts
As you can see by Pickle's face she was super excited about a new Playmobil set, just as her big sister was. For five year old Squidgy, the Playmobil summer villa is perfect, and she loved setting them up to barbecue the meat, or have dinner around the table with their own cutlery. Having a younger sister around makes things a little more difficult as all those small parts have to be put out of reach. It is still playable though, and both girls were able to enjoy it together, and during nap times I let Squidgy have all the small parts back.
I absolutely love the Playmobil Family Life 9420 summer villa set, and I know both my girls do too!
For more reviews of products and services we use in our lives as parents raising our two girls visit my reviews page. If you have any questions about the Playmobil Family Life 9420 summer villa set, feel free to ask in the comments section below.